Heating and Cooling Services
We are your full-service heating, ventilation, and air conditioning contractor. We are committed to providing the highest quality service and installations. We offer service, repair, installation, and planned maintenance for your home's heating, ventilation, and air conditioning needs.
We offer the following HVAC services: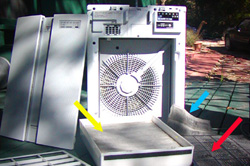 Furnace Repair
Furnace Cleaning
Furnace Preventive Maintenance
Comprehensive Furnace Safety Check
Furnace Replacement / Furnace Installation
Furnace Repair
We offer the following services:
Air Conditioner Repair
Condenser Cleaning
Freon Refill Services
Coolant Leak Checks
Comprehensive Air Conditioning System Safety Check
Condenser Replacement
Air Conditioning System Installation
Air Conditioning Compressor Repair
Hot Water Heater Repair
Hot Water Heater Cleaning
Hot Water Heater Preventive Maintenance

Comprehensive Hot Water Heater Safety Check
Hot Water Heater Replacement
Hot Water Heater Installation
Hot Water Heater Repair
Air Filters
Air Purification Systems
HEPA Air Treatment Systems
Duct Cleaning
Residential HVAC Services
We repair and service furnaces, boilers, hot-water heaters, and air conditioners to help maximize their life span. We also install humidifiers and air-purification equipment to make your home as comfortable as possible in any season. Big Walnut understands customers always come first, that's why we guarantee that our HVAC services are completed professionally.
Commercial HVAC Services
Big Walnut offers custom solutions for offices, restaurants, and other commercial spaces. Whether you are looking for a one-time service call, or an annual maintenance plan, we are the most reliable and customer oriented HVAC contractor for the job. We will work around your schedule for minimal business disruption.
New Construction
We welcome your requests for bids and project proposals. After submitting your RFP to our expert HVAC service contractor, you can expect a quick bid turnaround. We work proactively with other contractors on the job site to ensure a harmonious and on-time progress. We pride ourselves on working with general contractors and developers to deliver on-time and quality work that your customers will be proud to own.
Call 614.327.1310
or
contact us online
.
Serving in and around Marengo, Sunbury, Westerville, Galena, Lewis Center, Powell, Marion, Columbus, Bucyrus & Mansfield, OH.